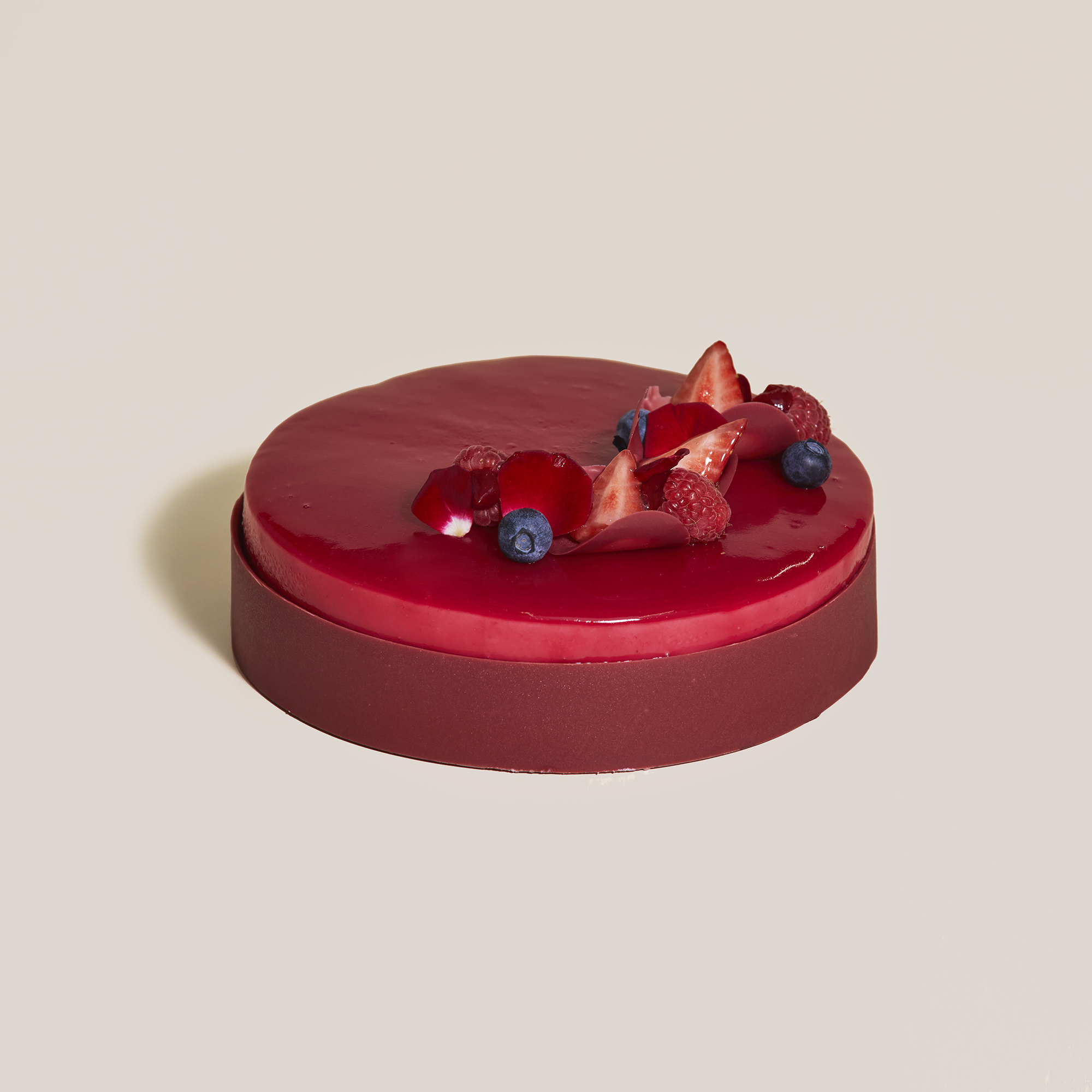 Desert Rose
34,00€ – 40,00€
Strawberry and raspberry mousse with lychee jelly, and chocolate sponge cake layer with almond cake.
The Rose of the Desert is a very refreshing house classic, reinterpreted with a contemporary and sophisticated aesthetic. An explosion of red fruits concentrated in a raspberry and strawberry mousse, as well as a layer of chocolate sponge cake and a second layer of almond cake.
The chocolate sponge cake grill is thin and fluffy, made from eggs, sugar, wheat flour, almond flour and cocoa powder. These sponge cake plates are slightly sweet and have an intense chocolate flavor. They provide a rich and deep flavor perfectly aligned with the cake as a whole.
The layer of the classic cake, also made with almond flour, gives a tender and delicate texture.
To complement the raspberry mousse, fill between layers with a lychee jelly that will provide a more pronounced, exotic, very refreshing floral note. A memory between strawberries and grapes of the most interesting.
We finish with a very natural red bath, made of berries and rose petals, which will give a hypnotic, very attractive color. A real sensory explosion, a delicious experience. Suitable for any celebration, especially suitable for the hottest months.
To enjoy it at Baixas the patisserie of Barcelona that will not leave you indifferent. Glad you go!
Place the order 48 hours in advance.
Option of collection in shop or home delivery from 40€.
Free shipping for orders over 60€.
Home deliveries to: Barcelona, l'Hospitalet de Llobregat, Badalona, Santa Coloma de Gramanet, Sant Cugat del Vallès, Cornellà de Llobregat, Sant Boi de Llobregat, El Prat de Llobregat, Esplugues de Llobregat, Sant Feliu de Llobregat, Sant Adrià de Besòs, Sant Joan Despí and Sant Just Desvern.
Call the shop if you want to ship to another municipality or for any other question.