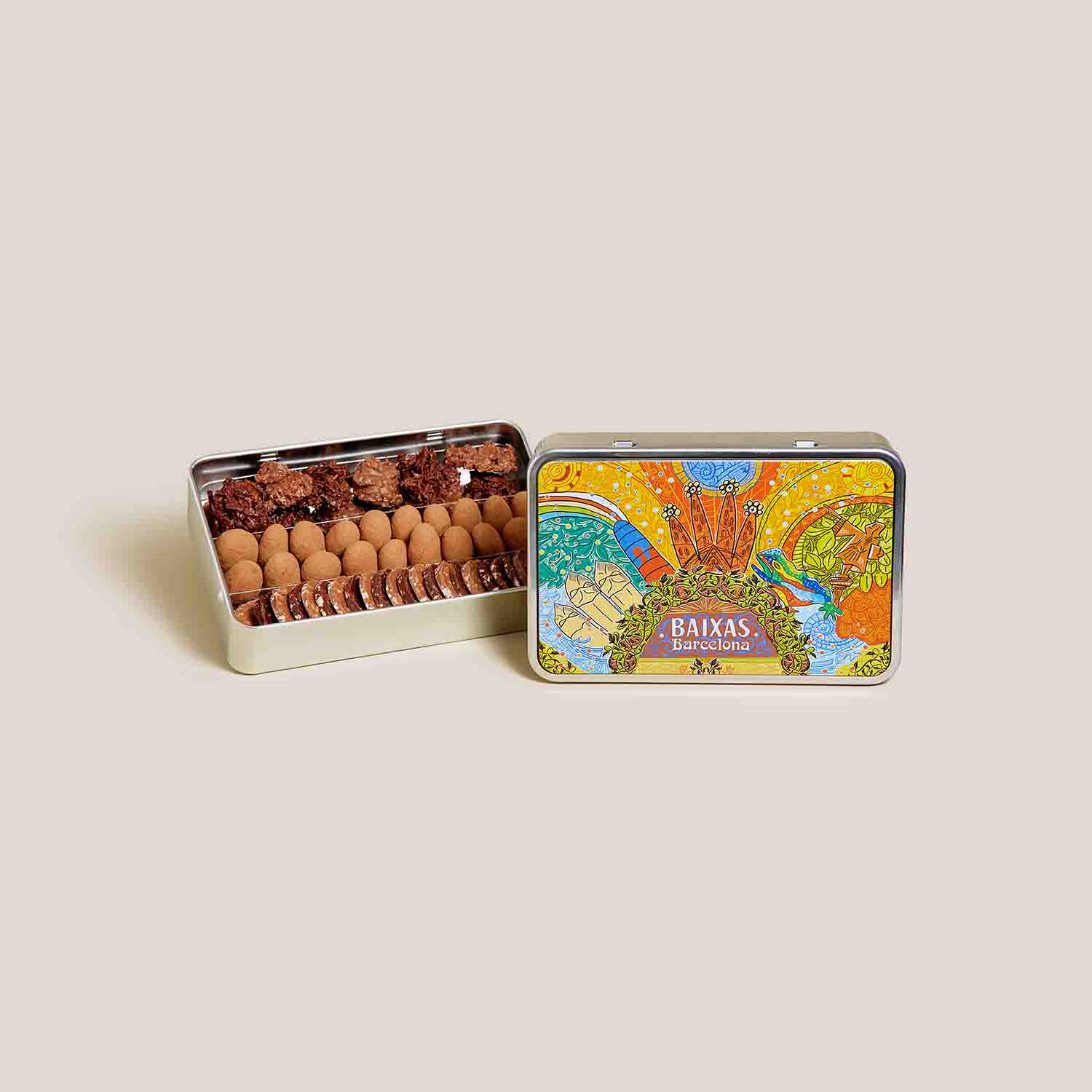 Gaudí Box Barcelona (295 gr. approx)
22,00€
Varied selection of the following products:
Neulons.
Catanias.
Chocolate delights.
ALLERGENS: Gluten, lactose, egg, traces of soy and nuts.
La Capsa Gaudí Barcelona is a varied selection of delicious products that sweeten the senses with their exquisite combination of flavors and textures. This box consists of: Neulons, Catanias and Chocolate Delights.
Neulons are a specialty of pastry, with a crunchy, exquisite texture. The basis is broken wafers, made of flour, sugar, egg white and butter. The most common are those called praline. Dark chocolate and milk chocolate are the perfect bath for these neulons. Dark and milk chocolate envelops neulons very well and provides firmness and structure. It ties each neulon virtuously together and becomes a crunchy and capricious product.
Catànies are a pleasure for lovers of chocolate and tradition. These Marcona almonds are lightly toasted and covered with a praline and chocolate. A sweet, elegant and crunchy treat. They taste intoxicating. We can accompany them with desserts, alone or even with bread as is done in many places.
Each delicacy is made with quality hazelnuts, toast and ground, to achieve an intense and authentic taste. Hazelnut provides a crunchy texture and a delicate flavor that we enjoy in every bite. 100% handmade. The covering of dark chocolate and milk chocolate is the secret of this delicious box. Bathed in Valrhona chocolate, dark chocolate adds intensity and elegance. On the other hand, milk chocolate is soft, sweeter.
The Gaudí Box Barcelona is ideal for gifts. It is one of the most successful gifts ofBaixas.Baixasis Barcelona and the Gaudí box is craftsmanship, culture and tradition. A claim in itself. Let's enjoy it!
To enjoy it at Baixas The Barcelona chocolate shop that will not leave you indifferent. Enjoy your meal!
Place the order 48 hours in advance.
Option of collection in shop or home delivery from 40€.
Free shipping for orders over 60€.
Home deliveries to: Barcelona, l'Hospitalet de Llobregat, Badalona, Santa Coloma de Gramanet, Sant Cugat del Vallès, Cornellà de Llobregat, Sant Boi de Llobregat, El Prat de Llobregat, Esplugues de Llobregat, Sant Feliu de Llobregat, Sant Adrià de Besòs, Sant Joan Despí and Sant Just Desvern.
Call the shop if you want to ship to another municipality or for any other question.