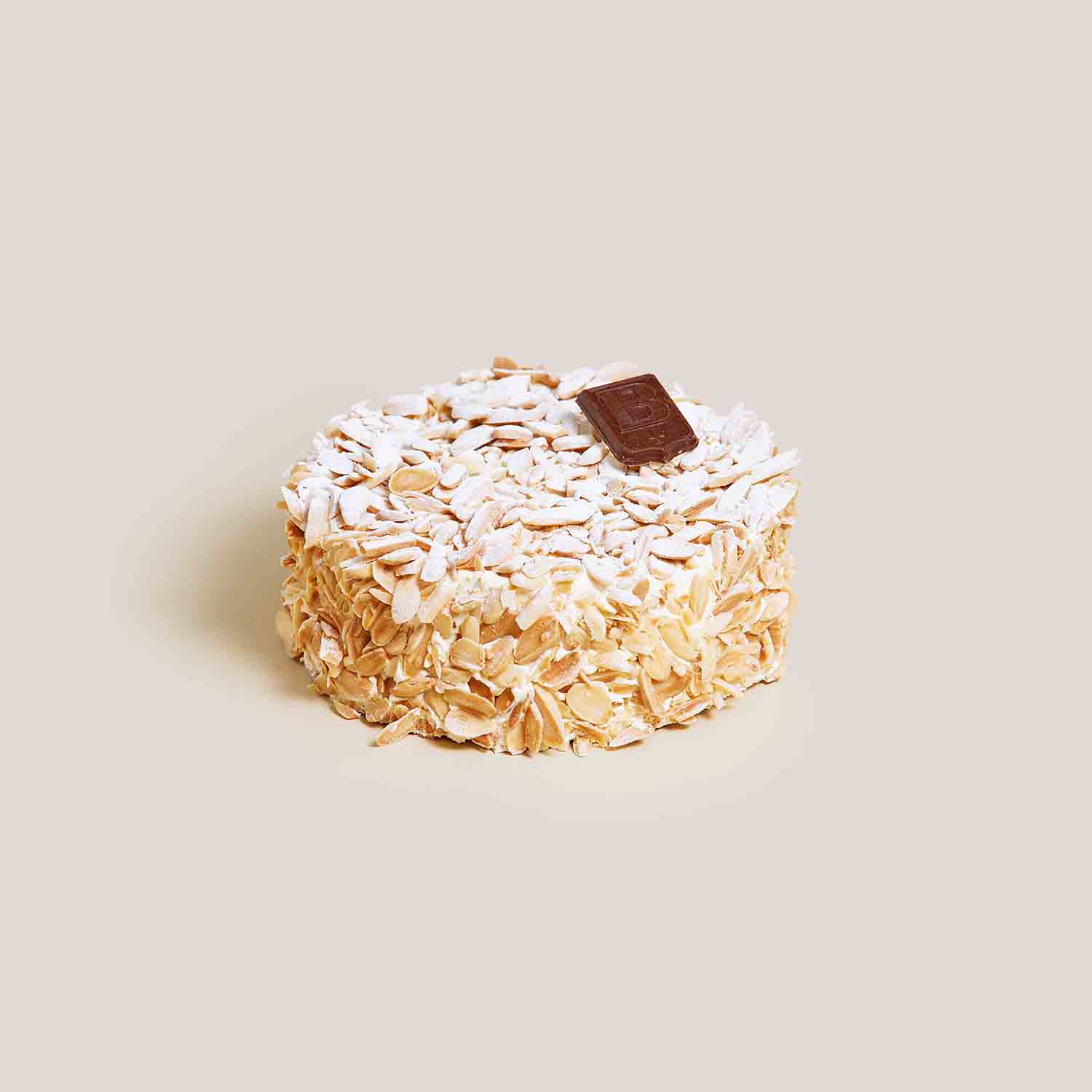 Sara
34,00€ – 39,80€
Sponge cake with buttercream and toasted Marcona almond topping.
ALLERGENS: Gluten, lactose, egg, traces of soy and nuts.
Sara is the most emblematic cake of Baixas. Sponge cake, buttercream and Marcona almonds are the 3 key elements that give our Sara a stratospheric personality.
Gingerbread is the structure of this cake. Made with organic eggs, wheat flour, sugar and a little yeast, its texture is delicate and fluffy, very tender.
At this point we generously bathe the cake with a syrup made of sugar, water and a little Cointreau. In this way we will get a tender, slightly moist and very aromatic cake.
The buttercream is generously arranged between the layers of the cake and is made from Bomba Pasta, egg yolk, syrup and butter. The butter is added little by little, once the preparation of the other ingredients is assembled.
The toasted Marcona almond topping is the final touch that enriches the Sara cake. The Marcona almond, cut into thin slices and toasted, provides a crunchy texture and a delicate and complex roasting flavor. The almond covers the entire cake and gives it a classic, very chosen aesthetic. The icing sugar finishes the recipe.
Without a doubt, our Sara is the best-selling cake ofBaixas. Both in large and individual format. Suitable for any special celebration. Sara ofBaixas It is pure craftsmanship and tradition in capital letters. It's the same recipe from 50 years ago and we didn't change it.
To enjoy it at Baixas the patisserie of Barcelona that will not leave you indifferent. Very good profit everyone!
Place the order 48 hours in advance.
Option of collection in shop or home delivery from 40€.
Free shipping for orders over 60€.
Home deliveries to: Barcelona, l'Hospitalet de Llobregat, Badalona, Santa Coloma de Gramanet, Sant Cugat del Vallès, Cornellà de Llobregat, Sant Boi de Llobregat, El Prat de Llobregat, Esplugues de Llobregat, Sant Feliu de Llobregat, Sant Adrià de Besòs, Sant Joan Despí and Sant Just Desvern.
Call the shop if you want to ship to another municipality or for any other question.