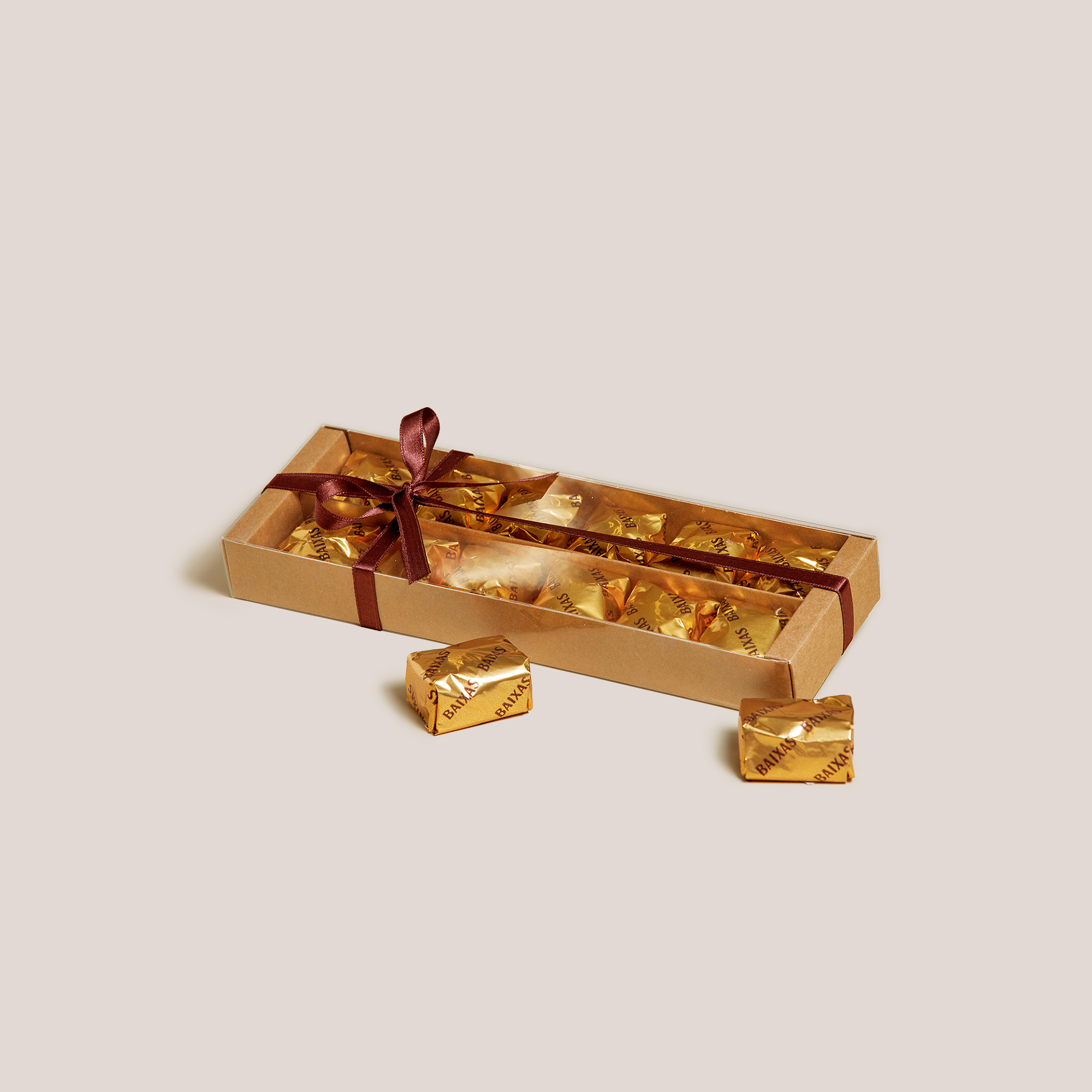 Box Marrón Glacé (12 units)
36,75€
Selection of 12 chocolates Marrón Glacé (chestnut confit with sugar frosting) of the best quality.
ALLERGENS: Gluten, lactose, egg, traces of soy and nuts.
The 12-unit Glacé Marrón Box is an exquisite proposal that combines the richness and delicacy of candied chestnuts with the most exquisite sugar frosting. This authentic culinary delight, packaged with care and elegance, offers a unique and irresistible gastronomic experience. Very elegant.
First of all, we need to choose chestnuts of exceptional quality, making sure that they are large and uniform enough. Chestnuts are peeled to remove their outer skin and put into boiling water to soften it.
Once the chestnuts have been peeled, they are cooked in a special sugar syrup. This syrup is made up of sugar and water, and cooks until it reaches a dense and slightly viscous consistency. Chestnuts are cooked in this syrup to absorb it and get a delicate texture.
Indeed, the texture is smooth and mellow. Frosting brings aesthetics and sweetness. On the palate, the chestnut is tender and very sweet. The merger is total.
The best quality of the selected ingredients are manifested in tenderness and softness and evoke the autumn season: complexity of aromas and refined sweetness.
Ideal for special moments, sharing with loved ones or as a very gourmet gift.
To enjoy it at Baixas The Barcelona chocolate shop that will not leave you indifferent. Enjoy your meal!
Place the order 48 hours in advance.
Option of collection in shop or home delivery from 40€.
Free shipping for orders over 60€.
Home deliveries to: Barcelona, l'Hospitalet de Llobregat, Badalona, Santa Coloma de Gramanet, Sant Cugat del Vallès, Cornellà de Llobregat, Sant Boi de Llobregat, El Prat de Llobregat, Esplugues de Llobregat, Sant Feliu de Llobregat, Sant Adrià de Besòs, Sant Joan Despí and Sant Just Desvern.
Call the shop if you want to ship to another municipality or for any other question.